Great Rosarians of the World™ XII
The Great Rosarians of the World 13 West will be held at The Huntington Library, Art Collections, and Botanical Gardens, San Marino, California, will be celebrated on Saturday, February 2, 2013. The program will be held from 1:00 pm to 5:00 pm in Friends' Hall. There will be a reception following the program. Tickets are $10.00 each and reservations required. To obtain tickets please call The Huntington at 626.405.3504.
This year we are honoring two outstanding Rosarians, Dr. Walter H. Lewis and Malcolm Manners, whose work has promoted the growing of roses and extended our knowledge of roses.
| | |
| --- | --- |
| | |
| Dr Walter H Lewis | Malcolm Manners |
For more information please go the the GROW West link on the above right.
Great Rosarians of the World™ XII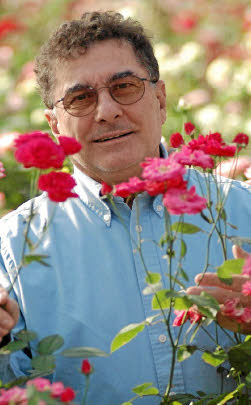 We are delighted to announce that our speaker/honoree for GROW XII will be Alain Meilland of Meilland International, the legendary French rose company that boasts six generations of family ownership and management.
The dates for GROW XII will be January 21-22, 2012. The Saturday program will be a workshop and panel discussion on pruning and growing Old Roses in Southern California using sustainable horticulture. This event will be held in the Rose Garden or Teaching Greenhouse (in the case of inclement weather) at the Huntington Botanical Gardens from 1:00 pm to 3:00 pm.
M. Meilland's program will be on Sunday, January 22, at 2:00 pm. The program will be held in Friends' Hall, across from the main entrance at the ticket booth at the Huntington.
Tickets for both Saturday and Sunday programs will be $50.00 per person and include a box lunch on Sunday.
To order tickets please call 626.405.3514 or email cmartin@huntington.org
There will be a dinner honoring M. Meilland on Saturday, January 21 evening. Dinner will be held in Banta Hall of The Huntington Botanical Center and the cost will be $35.
Please call 626.405.3514 or email cmartin@huntington.org cmartin@huntington.org for tickets and information.
M. Meilland will also be honored in New York in June 2012 as part of a weekend of Great Rosarians of the World™ XII festivities.

"Because we rose breeders are always looking into the future, always hoping that this year's cross-pollination will yield exciting results for rose lovers to enjoy eight to ten years from now, we must be optimists. Like Papa Meilland and like my rose-growing-and-breeding ancestors before them, I still get a tre­mendous burst of enthusiasm each spring when I see our new crop of seed­lings peeking through the soil in our re­search greenhouses."—from the Preface of Meilland, A Life in Roses by Alain Meilland
Founded in 1850 by gardener Joseph Rambaux, Meilland International has been managed by six generations of Meilland family rosarians. At the age of 18, Alain Meilland took the helm in 1958 upon the death of his father. The business operates today out of the Domaine de Saint André in Le Cannet-des-Maures, Le Luc en Provence, Var, France, with branches all over the world.
The company has distinguished itself throughout the years with wonderful roses, perhaps the most famous being "Peace," the beautiful light yellow to cream hybrid tea with crimson-pink edges. Developed prior to World War II by Francis Meilland (Alain Meilland's grandfather), he sent cuttings to friends in Italy, Turkey, Germany, and the United States just before the German invasion. The Conard Pyle Company propagated the rose during the war and announced it in the United States on April 29, 1945, the day that Berlin fell, heralding the end of the war in Europe. Delegates to the inaugural meeting of the United Nations later in 1945 were given Peace roses along with a note that read, "We hope the 'Peace' rose will influence men's thoughts for everlasting world peace". Peter Beales, English rose grower and our first Great Rosarian honoree, said in his book Roses:
" 'Peace', without doubt, is the finest Hybrid Tea ever raised and it will remain a standard variety forever".
It is estimated that more than 50 million plants of "Peace" can be found throughout the world.

In 1948, Meilland was the first company in Europe to receive a patent on a plant for their "Rouge Meilland® var. Rim 1020". Currently, they hold more than 1,000 patents worldwide and 800 trademarks. Francis Meilland was a champion for Plant Breeders' Rights and legislation to protect hybridizers' intellectual property.
Other well-known varieties developed by Meilland International include "Pierre de Ronsard®", "The McCartney Rose®", and "Papa Meilland®". Each year the Meilland research team, which includes Alain Meilland, Michèle Richardier and Jacques Mouchotte, initiates breeding programs yielding between 5 and 8,000 hybrids or crosses, representing 100,000 to 120,000 flowers artificially fertilized between April and the end of July.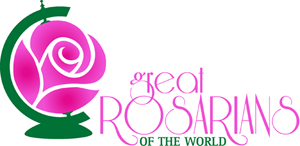 The Great Rosarians of the World™ lecture series was founded in 2001 to honor and celebrate the men and women who have contributed to our understanding and love of our National Flower the Rose. Originally presented at The Huntington in late January the program was expanded to the east coast in 2007 where it is repeated in New York City in early June. Over the years we have had the unique opportunity to hear a broad selection of the greats of the rose world, men and women of the caliber of Peter Beales, Ralph Moore, Roger Phillips, Miriam Wilkins, Wilhelm Kordes, David Austin, and Marilyn Wellan.
The lectures and workshops are designed for everyone from novice to experienced rose growers to learn more about the flower we all love. It is also a great place to meet fellow gardeners and exchange tips on growing roses.
Details of the Great Rosarians weekend and information on ordering tickets can be found on the GROW West page.