This site is dedicated to the Great Rosarians of the World™ Annual Lecture Series.
Please contact Clair Martin at clairgmartin@mac.com for information.
Thank you!

GROW West is held each January at the Huntington Botanical Gardens in San Marino, California. Significant contributors to the world of roses are honored, as are remarkable gardens.

GROW East is held each June in New York City. Events include the Great Rosarian lecture, garden tours, and recognizing the Great Rosarians Hall of Fame Gardens.
Great Rosarians of the World™ Annual Lecture Series
The Great Rosarians of the World™ Annual Lecture series was founded with the purpose of honoring the men and women who have shaped our love and appreciation of the rose. Starting in 2001, The Huntington Library, Art Collections, and Botanical Gardens in San Marino, California, initiated this series for local rose growers and gardeners to have the opportunity to hear and meet the authors, nurserymen, and educators who have through their dedication and efforts shaped the rose into our national flower and promoted it to become one of the world's favorite flowers.
In 2007 The Huntington and the New York Metropolitan Rose Council agreed to jointly host the lecture first on the West Coast at The Huntington and then move to the East Coast where the program was repeated at Brooklyn Botanic Garden. The following year, The New York Botanical Garden hosted the lecture. The two gardens continue to hosting on alternate years.
In 2008, the Great Rosarians Garden Hall of Fame award was initiated, with the first recipients being the San Jose Heritage Rose Garden and Sacramento Historic Cemetary Rose Garden.
In addition to the Lecture and Garden Hall of Fame awards, the Great Rosarians of the World™ weekend features additional activities of interest to rose lovers. Past events have included panel discussions, art exhibits, additional speakers, and garden tours. For the current year's schedule, please check the GROW West and GROW East pages.
The Great Rosarians of the World™ Award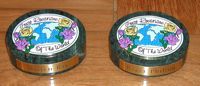 The Great Rosarians of the World™ Award was designed by fellow rosarian, author, and artist Helene Pizzi. Helene has lived in Rome since she moved there to study art. She is a native of Milwaukee, where she still maintains the family home.
Please help us get the word out
We need your help in spreading the word about this fantastic program. Please forward this web site and blog to your gardening friends and let them know what an opportunity it is to meet and hear our GROW™ honorees in person. Pass along this information to you local rose society newsletter editor, they are always looking for upcoming rose events. And think about getting a group of your rosarian friends to attend one of the GROW™ programs. You could even car pool and save on gas!